Helping those with Parkinsons
- Student Profile -
Nathan Darnall is a Mechanical Engineering PhD graduate student and IGERT fellow at the College of Engineering and Architecture at WSU. Having obtained his Bachelors of Science in Mechanical Engineering degree from WSU in 2002, Nathan has a background applying CAD modeling and simulation analysis to industrial machinery he designed for international markets. In 2010, Nathan joined the VRCIM Laboratory, where he currently develops new solutions to assist elderly and disabled adults in activities of daily living (ADLs) by applying motion capture, virtual reality, and CAD technologies to smart home environments.
- Research Profile -
Darnall's research focuses on Parkinsons with an emphasis on dyskinesia. As a teen Nathan assisted his grandfather who was diagnosed with Parkinsons.
"I enjoy working with people with Parkinsons. It is a very positive experience because they are motivated to find tools that will help them manage their disease."
Darnall's study centers around an instrument for Parkinson's disease and the motor deficiencies in the daily lives of patients. The goal is to provide the clinician with quantitative information about the disease's severity, progression, and impact on activities of daily living in the home.
How it all began…
Darnall and his grandfather:
"In the late 80s when Parkinsons was being redefined, there were a lot of symptoms mislabeled as the result of Parkinsons. My grandfather was initially diagnosed with Parkinsons but then was re-diagnosed with Super Nuclear Palsy – a very advanced form of Parkinsons. He had severe rigidity with it and could not move his head. He was aware of what was going on but he was trapped in his body. He could hear us talking and he would try to interact but his main form of communication was through writing. At the age of 12, I lived nearby and assisted in his daily care. It was humbling and it framed what I have become."
Research Background:
At the beginning of his graduate work, Darnall started in teh 3D virtual reality lab – an aspect of the Smart Home Project that takes video surveillance and tracks different actions and objects in a room in order to develop a system that automatically helps someone with dementia find what they are looking for.
He then took a class with Dr. Cook and was partnered up with two students from clinical psychology and computer science – opening the door for an entirely new research direction. It was in this course Darnall worked with a couple of neurologists from Spokane who sponsored a project using a special sensor built into a device worn on the subjects' wrist. The device was test on patients with Parkinsons disease and was designed to rate their tremors based on a pre established rating system. Three subjects were involved in the project but flaws were noted in the design of the wrist device as it was boxy in shape, cumbersome and not easy to work with.
It was this project that set the stage for the work Darnall has done since. His second research project focused on the study of dyskinesia that led to his current work in the study of individuals with Parkinsons and how they function in their daily lives at home.
Research Objective:
The Parkinsons patients use the newly-designed wrist sensors over a period of seven days. Researchers receive a continuous signal during waking hours as well as check-in phone calls. The ultimate goal is to manage medication levels in order to regulate appropriate treatment methods.
Definition of Terms
On-State: When a Parkinsons patient is in a normal, non-tremor state
Off-State: When a Parkinsons patient has a resting tremor (hands in lap with hands and fingers twitching)
Dyskinesia: Something that occurs during the On-State and is usually triggered by medication. In the early stages of Parkinsons the body responds well and consistently to the disease but after 5-8 years, more medication is required and inconsistencies develop within the on and off-states and periods of dyskinesia increase.
The device is designed to provide a guage for clinicians to read levels within the on and off-states between clinical visits.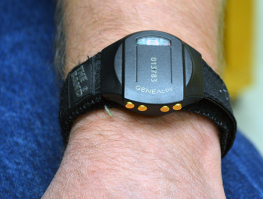 The Device
Nathan's Patients wear the device during waking hours. They are equipped with a signal algorithm that determines if they have dyskinesia and it automatically generates a graph that a clinician can analyze. Fluctations tend to be weekly or monthly versus daily so an evaluative snapshot of time is best.
Research Objective:
In terms of completing the study, Darnalls objective is to have a device that can generate a chart for clinicians that will aid in managing a Parkinsons' patient's care. Long term he would like to see the technology and device taken to market and avaiable off the shelf for patients and specialists to use as a treatment tool. The device could also be used in the field of neurology to establish a baseline and monitor patients over set periods of time.
- Next Steps -
The outcome of this project work will largely determine Darnall's next steps. He is considering commercialization of the device and technology and partnering with a company already doing this type of work in the marketplace.