Clinical Diagnosis and Machine Learning
Jennifer Williams and Alyssa Hulbert
Most of The Smart Homes Project research involves working with people that have Alzheimer's disease (AD) or mild cognitive impairment (MCI). Studies focus on how research can help people live more independently for longer. Age is the major factor in this research.
- Student Profile -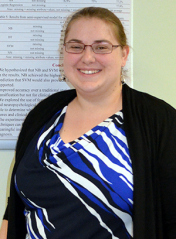 Jennifer Williams: Computer Science and Artificial Intelligence, School of Electrical Engineering and Computer Science
Jennifer started out as a math major but shifted to computer science because of her knack for programming. In her studies she also discovered an interest in Artificial Intelligence (AI) research and projects which became a basis for her graduate work.
Jennifer's primary interest is in adapting the technology they are using to help individuals live independently longer and looking at how a smart home can help an individual that is in the process of recovering from an injury or how a smart home can help an individual live more independently, if they are not able to make a full recovery. She also hopes to one day work with wounded veterans.
"I have friend who is a veteran who just came back from the war and was hit by an IED. He lost his leg and experienced significant trauma. With my research I hope to identify ways we can we adapt a smart home so wounded veterans like my friend are learning how to use the prosthetic while managing the effects of PTSD and providing assistance to help him through day-to-day activities in the home"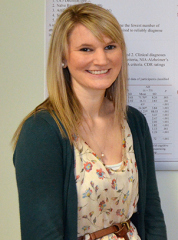 Alyssa Hulbert: Clinical Neuropsychology, Department of Psychology
Alyssa hopes to become a clinical neuropsychologist conducting research with elderly and dementia populations to determine the best tests that can be used to diagnose and differentiate individuals in order to better understand their functional limitations and how to best support them through assistive technology.
Alyssa determined this goal early on in her undergraduate work as she was exposed to the study of brain function and how it mediates behavior. She started out in neuroscience but moved into neuropsychology so she could continue to look at the brain behavior relationship with human applications. She joined Dr. Maureen Schmitter-Edgecombe's lab as an undergraduate and grew and more interested in the aging population and formulating research activities geared toward their support, longevity and independence. Her fear is that as the aging population continues to grow, the infrastructure to support them is not expanding at the same speed and therefore, this type of research is very important.
As individuals age the risk for impairment increases and the goal is just to help bolster our understanding and try to limit the impact of impairment has on that individual and their family members.
- Research Profile -
Jennifer and Alyssa conducted interdisciplinary research with an emphasis on looking at how to automate clinical diagnoses. They also hope that their research has an impact on the volume of tests currently required with patients being screened for cognitive impairment.
Alyssa focused on the neuropsychological aspects of the research and understanding the clinical diagnosis and Jennifer focused on machine learning algorithms that capture the data so models can be created to predict the clinical diagnosis. Data sets were provided by Alyssa and were generated from the clinical tests run at the Smart Homes facility on campus. Data was collected over a five year period.
The process…
Jennfier worked with the machine algorithms to make predictions on whether a person is healthy, had mild cognitive impairment or if they had dementia. The practice emulates the role of clinician. The individual can then take that information to their clinician for proper long term treatment and care. The primary goal was not to create a stand-alone tool, but to provide a system that improves accuracy in diagnosing the level of cognitive impairment. With that, early detection is more probable and patients and clinicians have reliable data to work from.
With the increase in medical data going digitally, there is going to be a greater need for medical data screening methods. This is one method where patients can screen the data that is available to to them rather than sitting down and working through each piece of data, one at a time.
The algorithms Jennifer worked with as part of the study were quite common but the automated system and practices were considered emerging. Ultimately they will want to engage with dementia clinicians to create a mainstream platform for use and application.
Barriers…
As the automation of clinical diagnoses in combination with machine learning is a newer concept, the primary focus is on data collection, testing and reporting of findings. It is in the early stages. The reception of this type of research method is mixed. The hope that it is more universal that application in smart homes. Alyssa and Jennifer are writing a series of papers they hope to publish so they can gauge a response from the medical, psychological and computer science communities.
- Research Methodology -
Human subjects were utilized for the research (one individual, one point in time) – running the subjects through a range of neuropsychological assessments (i.e. memory ability, retention, problem solving, planning) using paper/pencil, stimuli cards. Team of researchers conducted the assessments in the lab. All participants were community members ages 50+ living in the region with the farthest located in Tri Cities and Spokane. Studies were conducted in the lab on campus or participant homes if they were not mobile. Participants joined the study as volunteers or through physician referral. Results of the assessment were shared with the participants as part of compensation for their time. Each were given a neuropsychological report (typically a very expensive report) with the option of sharing the assessment with their physician in addition to researcher notes and observations.
- Next Steps -
The longevity of the data collection and research methods depends on Alyssa and Jennifer's abilities to commit and continue on with data collection. In April they were invited to give a presentation on their research at the Association for the Advancement in Artificial Intelligence AAAI conference.